Information for Doctors
Learn more about the treatments we offer at Perth OCD Clinic and
how you can make a referral to our services
Dedicated clinical psychology
Our Treatment Services
The Perth OCD Clinic was established to provide dedicated clinical psychology services to OCD sufferers and their families. Our clinic provides assessments and individual clinical psychology treatment for OCD and a range of obsessive-compulsive related issues.
Treatment Services include:
Obsessive Compulsive Disorder (all subtypes)
Clinical perfectionism
Body Focused Repetitive Behaviours (BFRBs)
Trichotillomania (hair pulling)
Dermatillomania/excoriation disorder (skin picking)
Treatment-resistant OCD
A Broad Range of Experience
OCD co-occuring with
other psychological issues
In addition to working in the field of OCD, our team of clinical psychologists have considerable experience in working with adults, adolescents, children and families. We work across a broad range of psychological issues that often co-occur with OCD.
Our wide-ranging experience enables us to match a client's presenting issues with the most appropriate practitioner. We assign team members to clients based on individual areas of special interest, experience and therapeutic approach. Our clinical psychologists have experience in the following areas:
Depression & depressive illness
Anxiety
Panic attacks/Panic Disorder
Health anxiety
Social anxiety, Generalised anxiety and phobias
Post-Traumatic Stress Disorder
Bipolar Affective Disorder
Sleeping difficulties
Low self-esteem
Grief, bereavement & loss
Adjustment difficulties & life transition issues
Child and Adolescent psychological issues
Stress management
Anger management
Personality disorders/issues
Family of origin issues
Therapy Approaches
We have experience in the following therapy approaches:
Cognitive Behaviour Therapy (CBT)
Exposure and Response Prevention Therapy (ERP)
Mindfulness-based strategies
Acceptance & Commitment Therapy (ACT)
Imagery Rescripting
Schema therapy
Dialectical Behaviour Therapy (DBT)
Ongoing professional development
Fully-Trained and
Qualified Practitioners
The Perth OCD Clinic comprises a team of independently practising clinical psychologists. Each clinician has completed a minimum of six years' full-time formal university training to be awarded a Masters degree in clinical psychology, or up to 10 years' training for a PhD degree. In addition to their university training, all of our clinical psychologists have completed the required registration period of post graduate training. We are all fully-registered members of the Australian Health Practitioner Regulation Agency.
By referring to the Perth OCD Clinic, you can be sure that your clients will be assessed and treated by a clinical psychologist who receives ongoing OCD training by Dr Gayle Maloney.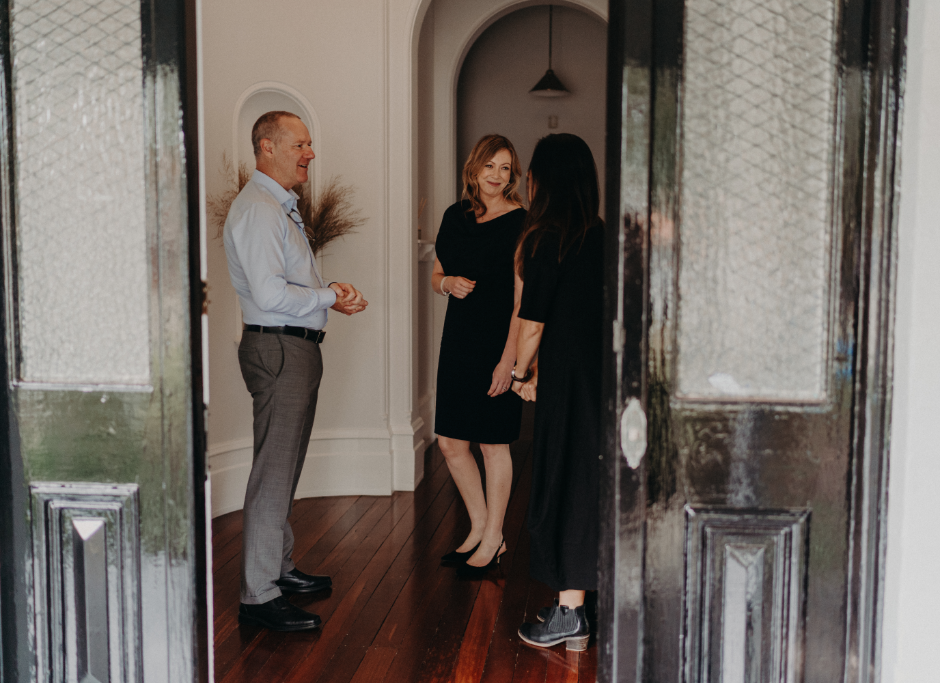 A Broad Range of Experience
How to Refer to the Perth OCD Clinic
Psychiatrists, General Practitioners (GPs) and Paediatricians can make a referral to the Perth OCD Clinic by choosing the most appropriate clinical psychologist on our practitioner page.
As all of our clinical psychologists maintain independent private practices, you can refer and deal directly with individual practitioners. Their contact details are provided alongside their profile information. The client will need to make the calendar booking themselves.
Please note that although not essential, if your client wants to claim a medicare rebate, they need to be referred under the Medicare Better Access System prior to their first consultation with one of our clinical psychologists.
For ease of reference, Medicare requires GPs to formulate a Medicare Mental health Care Plan. The following Medicare item numbers must be billed prior to a Medicare based referral:
2715 (2717) for GPs who have undertaken mental health skills training
2700 (2701) for GPs who have not undertaken mental health skills training
For psychiatric and paediatric referrals, a referral letter (opinion & report) to the Perth OCD Clinic under item 291 is all that is required under the Medicare system.
For further information on referring a client for Medicare rebates, please call 132 011, or or visit the Human Services website.
If you'd like to discuss a client referral in more detail, please contact Dr Gayle Maloney directly at gayle.maloney@perthocdclinic.com.au.
Join our medical professionals OCD database
We are frequently asked to recommend names of Psychiatrists, Paediatricians and General Practitioners in Western Australia who have a special interest in the treatment of OCD. Medical professionals in WA are welcome to forward their practice details to Dr Gayle Maloney to include in our central database for this purpose. Our overarching goal is to ensure that OCD sufferers and their families in Western Australia find the support that they deserve.
In turn OCD sufferers, family members, or local mental health professionals are welcome to contact us if they would like to receive contact details about WA medical professionals who are listed on our database.